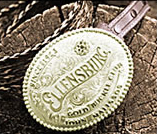 The "Gold Buckle" designation is reserved for individuals whose significant contributions to the Ellensburg Rodeo support events or projects that would not be possible otherwise. As a major sponsor, Gold Buckle members are very important to us and we wish to express our appreciation by extending an invitation to participate in the following events, awards, and benefits we provide our Gold Buckle Club.
Special Events
Each January you will be invited to be our guests to the Royal Court Coronation Banquet. Dinner and entertainment are provided at this gala affair during which the Ellensburg Rodeo Queen and Princess are selected.
The Thursday before Rodeo weekend you will be invited to attend a Crown Royal Kick-Off Party. It is a fun-filled and relaxing way for you and your spouse or guest to kick-off an exciting weekend.
On Rodeo Weekend Sunday, you and your spouse or guest will be invited to the Gold Buckle Rendezvous at the Springwood Ranch Party Barn. You will be able to purchase additional tickets for up to six guests.
Benefits
Presentation of a champion-style Gold Buckle to contributors. In addition to your gold buckle, you and your spouse will be presented with a sterling silver name badge.
We will provide free and convenient V.I.P. parking for access to the rodeo grounds.
You will receive special recognition during the Ellensburg Rodeo Grand Entry and in the rodeo program.
We will reserve two complimentary seats for you and your spouse or guest for all performances. An additional four tickets per day for your family members and/or your personal guests may be purchased.
We invite you and your spouse or guest to visit the Gold Buckle Building where you will be provided with refreshments throughout the rodeo.
Cost
$1,750.00 annually
Interested in becoming a Gold Buckle Club member?  Please fill out the membership application.
[add_to_cart id="4112″]