Justin McKee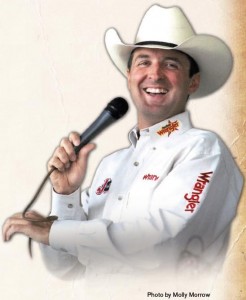 The Ellensburg Rodeo is honored to have Justin McKee back to announce. As a 7-year-old, McKee sold his first animal at his family's livestock auction. In 1993 McKee joined the PRCA as a steer roping contestant and an announcer. As a cowboy, McKee has been known to disappear from his announcing duties during a performance and reappear as a contestant in the arena. In 2004, McKee missed qualifying for the National Finals Rodeo by three spots, finishing the season at No. 18 in the standings for steer roping.
McKee is from Lenapah, Okla., where he and his family operate the McKee Ranch. The ranch-raised cowboy knows a thing or two about the bulls he introduces at events. That's because he raises his own. With the help of his wife, Jeannie, and daughter, Kassidy, the McKee Ranch raises purebred bucking stock and sells bucking bull futurity prospects and replacement heifers. His cattle operation includes 800 momma cows and a couple hundred yearlings in Oklahoma, Kansas and Eastern Texas.
The McKee Ranch is also well known for their quarter horses. McKee's wife, Jeannie, raises, trains and sells well bred barrel racing horses. McKee's passion for rodeo and knowledge of all aspects of the sport enhances his announcing repertoire, making him one of the best knows announcers worldwide. McKee announces some of the largest PRCA events in the nation, including the Ellensburg and Cheyenne.
"I thank God every day for blessing me with the opportunity to make a living at something I enjoy so much," Justin McKee says. His enthusiasm for rodeo and life is contagious and genuine. He admits, "I am one of the biggest fans in rodeo. When I'm behind the mic, I'm having a great time and one of my main goals is that everyone there is having fun, too."